Which Patients Are Good Dental Implant Candidates?
By markplatt on April 01, 2014
---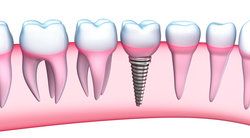 If you are missing one or more teeth, dental implants are a great way to replace those teeth, repair your smile, and reinstate your self-confidence. By surgically placing implants in your jawbone, your oral surgeon can provide permanent restorations that look and function like natural teeth, giving functionality to your smile and protecting the long-term health of your jaw bone. If you are considering these restorations, you may be wondering if they are suitable for you. In this post, your Montgomery oral surgeon explains the qualifications of good dental implant candidates.
How Implants Work
Dental implants are made up of three parts:
A biocompatible, titanium post
An abutment piece
A lifelike, custom fabricated dental crown
When your oral surgeon places implants, he will first position the implant post in your gums and jawbone. Because titanium is biocompatible, your tissues will heal around the posts. Four to six months later, when healing is complete, your dentist will attach an abutment piece to the top of the post before connecting the dental crown. Your dentist can use this procedure to place one implant or several. If you are missing an entire arch of teeth, he can place multiple implant posts at once to provide you with implant-supported dentures.
Considerations before Placing Dental Implants
When determining your candidacy for dental implants, your oral surgeon will take several factors into account:
Oral health: To be a candidate for implants, you should have good periodontal health. However, like many of our patients, you may have lost teeth as a result of gum disease. It is important to treat this condition before receiving implants; otherwise your tissues may not heal properly around the implant posts.
General health: When you receive dental implants, you will be given general anesthesia, so if you have a medical condition that would make sedation dangerous, you should not receive implants. Other conditions such as autoimmune disorders, arthritis, high blood pressure, and diabetes can affect your candidacy. Although they do not necessarily mean you are not an implant candidate, it is important to inform your dentist that you have important health considerations.
Age: In the vast majority of cases, children and teens are not good candidates for dental implants. Because their bones are still growing, further growth could compromise the placement of the implants. However, although these restorations are not typically suitable for children, you are never too old to benefit from dental implants!
Smoking: Smoking hinders your body's ability to heal itself, and you may have difficulty recovering from implant surgery. While smoking does not automatically prevent you from receiving implants, it is important to tell your dentist that you smoke, so that he or she can take measures to protect your tissues and promote healing.
Dental Implants and Jawbone Loss
To receive dental implants, you should have enough jawbone volume to support the implant posts. When you are missing teeth, there is a good chance that the structure of your jawbone has been compromised. Fortunately, a jawbone grafting procedure can restore missing bone and enable you to receive these restorations. Using your own bone or bone from another source, your dentist will build up your jawbone structure, using platelet rich plasma (PRP) to stimulate healing. If necessary, your oral surgeon can also perform a sinus lift, carefully rebuilding your upper jaw and moving your sinuses to accommodate the implant posts. Thanks to these advanced surgical procedures, you can enjoy improved oral health and a stunning smile.
Find out if You're a Candidate
A consultation with your oral surgeon is the only way to determine your candidacy for dental implants. Call Oral and Maxillofacial Surgery Associates today to find out whether implants may be right for you.
Related to This
I wish to thank publically Dr. Ingalls and his staff for "going the extra mile" and not only providing great dental care but also helping a fellow human being out of compassion and caring. Thank you from the bottom of my heart for what you did for my family member.

Rodney H.