Oral and Maxillofacial Surgery Associates Recently Held the 17th Annual Current Concepts in Oral and Maxillofacial Surgery Seminar
By markplatt on April 10, 2014
---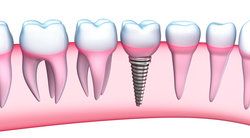 Montgomery, AL - The 17th Annual Current Concepts in Oral and Maxillofacial Surgery seminar was held on March 7, 2014 at the Wynlakes Golf and Country Club; more than 400 participants, attended the event. The four-hour seminar in South-Central Alabama featured lectures from several esteemed professionals, including two oral pathologists. The doctors who attended the seminar received continuing education credits.
The field of oral and maxillofacial surgery focuses on the surgical treatment of defects, injuries, cosmetic issues, and other conditions that affect the teeth, jaws, mouth, and face. One common problem that is treated by oral and maxillofacial surgeons is tooth loss.
Tooth Loss
Tooth loss leads to a number of aesthetic problems as well as several serious dental health issues. While removable dental bridges and dentures can restore function and appearance to the smile, a superior and more permanent solution to the problem is implant dentistry. As oral surgeons, George M. Bradford, D.M.D., Donald L. Ingalls, D.M.D., Richard A. Kean, D.D.S., M.D., J. Jason Parker, D.M.D., M.D., F.A.C.S., and Matthew E. Johnson, D.M.D., of Oral and Maxillofacial Surgery Associates, have the training to perform all stages of the dental implant treatment process, including oral surgery and the restoration attachment. They believe dental implants are the gold standard in tooth replacement, a point that they stress to both colleagues and patients.
"Our philosophy here at Oral and Maxillofacial Surgery Associates is to provide the best oral surgery care for our patients in a safe and caring environment," says Dr. Kean.
About Dental Implants
Dental implants are artificial tooth roots that are made of biocompatible titanium. This composition allows the dental implants to become one with with organic tissue. The artificial tooth roots are surgically embedded into the jawbone and gum tissue in the area of a tooth gap. When dental implants are in place, they are able to support:
Dental crowns
Dental bridges
Partial dentures
Full dentures
The dental appliance used during treatment will depend on the extent and nature of the tooth loss that a patient has experienced.
Stability and Security Like Natural Tooth Roots
Dental implants hold restorations in place with a remarkable amount of stability that is comparable to a person's natural tooth roots. This means that patients will be able to bite and chew just as they would with their natural teeth. There's no need for denture creams and very little chance of an implant-supported restoration slipping from its place while talking, laughing, and performing other day-to-day activities.
"It can be a significant change in a person's outlook on themselves, a sense of pride with change of their facial appearance," says Dr. Kean
The Fusion of the Implants with the Jawbone and the Gums
Perhaps the most important aspect of getting dental implants is the fusion of the implants with the natural tissues of the mouth. This is achieved through osseointegration as a patient heals, and it's a crucial part of the treatment process. Osseointegration means that the dental implants become part of the jawbone and the gum tissue just as natural tooth roots would. This fusion makes dental implants a true permanent solution for tooth loss.
Preventing Gum Recession and Bone Loss
Since the dental implants function as natural tooth roots, they prevent gum recession and bone loss from occurring. Both of these problems are associated with tooth loss and tooth gaps. While removable bridges and dentures cannot address this issue at all, dental implants can.
"We get a lot of feedback from our patients that when all is said and done they're just so happy to be able to have their teeth back," says Dr. Ingalls.
Weighing Your Options for Restorative Dental Care
During the consultation process, patients will be able to learn more about their candidacy for implant dentistry. Patients need to have sufficient bone density and gum density in the area of the tooth gap to support dental implants. However, if this tissue density is lacking, there are grafting procedures for bone and gum tissue that can be performed.
Learn More about Advanced Implant Dentistry Treatment
In order to find out if dental implants may be right for you and your needs, it's important that you contact Oral and Maxillofacial Surgery Associates directly to schedule a consultation. The practice can be reached at:
The Montgomery Office
5741 Carmichael Pkwy
Montgomery, AL 36117
Ph: (334) 277-3492
Fax: (334) 277-9432
The Prattville Office
620 McQueen Smith Rd
Prattville, AL 36066
Ph: (334) 358-0052
Fax: (334) 358-5676
The Troy Office
103 E. Merrily Dr
Troy, AL 36081
Ph: (334) 277-6701
Fax: (334) 277-9432
Related to This
I wish to thank publically Dr. Ingalls and his staff for "going the extra mile" and not only providing great dental care but also helping a fellow human being out of compassion and caring. Thank you from the bottom of my heart for what you did for my family member.

Rodney H.