Oral Pathology Montgomery
---
Pathology is a medical specialty that studies the nature and causes of systemic diseases. Likewise, oral pathology is the study of the nature and causes of severe oral diseases. One of the most common, and the most dangerous, of these diseases is oral cancer. Oral pathology, as our Montgomery oral surgeons explain in detail during consultations, can help patients detect and seek help for potentially fatal diseases at an early stage, increasing the likelihood of successful treatment.
Dr. Kean Discusses Oral Pathologies
---
Dr. Kean discusses the field of oral pathology, including indications that you should have an oral cavity check-up.
Enlarge Video
View All Videos
The Oral Cancer Epidemic
It's true for every disease and infection; the sooner you catch it, the better. This is especially true for pathological issues like oral cancer. As a general term, oral cancer describes cancers of the tongue, throat, tonsils, lips, cheeks, and other oral tissues. Of all the classified head and neck cancers, it is by far the most prevalent. Approximately 40,000 Americans are newly-diagnosed every year, and the survival rate five years after diagnosis is around 57%. When diagnosed early, the survival rate jumps to almost 90 percent.
Late-stage diagnosis contributes greatly to oral cancer's low survival rate, but it isn't because oral cancer is hard to detect. Rather, patients often neglect routine dental examinations, which include thorough screenings to inspect the oral cavity for soft tissue abnormalities. Typically, the early stages of oral cancer don't generate pain or discomfort, and by the time it's detected, the cancer has already metastasized to other areas, such as the lymph nodes.
Oral Pathology at Our Oral Surgery Office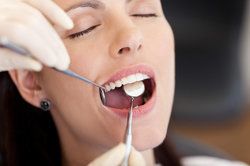 Oral surgeons are responsible for more than bone grafting and dental implant surgery. As part of our dedication to our patients' excellent oral and overall health, we utilize the latest diagnostic technology to perform comprehensive oral cancer screenings. Aside from a visual examination, your oral cancer screening may also include 3-D scanning imaging (CATSCAN) for a clear, concise picture of your soft oral tissues. For more precise analysis, we can perform a biopsy of your oral tissue, and if an abnormal growth is found, perform surgery to remove it.
Self-Examination, and the Power of Early Prevention
The American Association of Oral & Maxillofacial Surgeons (AAOMS) recommends checking for oral cancer at least once a month. Since routine dental checkups and cleanings occur every six months, you can perform a self-examination the months that you don't visit the dentist. Using a bright light and a mirror, look and feel the inside of your lips, gums, cheeks, and tongue for cysts, lumps, and other unusual growths. Inside your mouth, look for*;
white patches of the oral tissues — leukoplakia
red patches — erythroplakia
red and white patches — erythroleukoplakia
a sore that fails to heal and bleeds easily
an abnormal lump or thickening of the tissues of the mouth
chronic sore throat or hoarseness
difficulty in chewing or swallowing
a mass or lump in the neck
*from www.aaoms.org
Schedule an Appointment with Our Oral Pathology Experts Today
To schedule a consultation, contact our oral pathology experts today. Oral & Maxillofacial Surgery Associates has three convenient offices, and we proudly serve patients from Montgomery, Prattville, Troy, and the surrounding communities.
I wish to thank publically Dr. Ingalls and his staff for "going the extra mile" and not only providing great dental care but also helping a fellow human being out of compassion and caring. Thank you from the bottom of my heart for what you did for my family member.

Rodney H.