Improve Your Candidacy for Implants with a Sinus Lift
---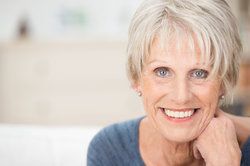 Dental implants are small titanium posts embedded in the jaw, where they can support a dental crown, bridge, or denture. Before proceeding with dental implant surgery, it is often necessary to perform a bone grafting procedure to create adequate, healthy bone tissue. If you are considering restoration for missing teeth in the posterior upper jaw, our surgeons will often recommend a sinus lift. This type of graft will raise the floor of the sinus and allow for new bone to form, which will provide secure support for your dental implant. Patients often suffer from bone loss in this area due to periodontal disease or tooth loss. To schedule a dental implant evaluation and determine whether you need a sinus lift, please contact our Montgomery-area office and make an appointment with one of our oral surgeons.
Preparing for Your Procedure
When you come in for your initial consultation at our office, we will take x-rays and use other imaging software to create an accurate representation of your bone structure and the anatomy of your jaw and sinus cavities. Once we have measurements of the height and width of the jaw, we can determine a customized treatment plan. The grafting material used in your procedure can be taken from your own body or a donor. Once the graft is placed, it will stimulate and regenerate bone growth in the upper jaw.
What to Expect During Your Surgery
Your sinus lift procedure will be performed under sedation to ensure your comfort and safety. The surgeon will first make an incision in the gums in the upper back part of your mouth, and pull back the tissue to expose your jawbone. A small oval window will be opened in the bone, allowing access to the sinus membrane. Your doctor will lift this membrane and pack grafting material into the space to encourage new bone growth. Once sufficient material is in place your surgeon will close the incision in the gums with sutures. Typically, implants can be placed 8-12 months after a sinus lift procedure. Total healing time will generally depend on the size of the treatment area.
Platelet Rich Plasma for Faster Healing
We are proud to offer our patients platelet rich plasma (PRP) in conjunction with their bone grafting procedures. PRP is composed of the patient's own blood. We use a centrifuge machine to separate the blood, allowing us to create plasma which is rich in platelets, the part of the blood that forms blood clots and releases growth factors that aid in healing. Sinus lift procedures with PRP offer a number of benefits, and consistently result in shorter recovery periods, higher success rates, and better overall patient outcomes.
Contact Our Office
Advancements in implant dentistry are allowing more and more patients to qualify for dental implants. If you are missing teeth in the upper back part of your jaw and are interested in implants, you may be a good candidate for a sinus lift. To learn more, please contact our office to schedule a consultation with one of our doctors.
I wish to thank publically Dr. Ingalls and his staff for "going the extra mile" and not only providing great dental care but also helping a fellow human being out of compassion and caring. Thank you from the bottom of my heart for what you did for my family member.

Rodney H.