Rebuilding Your Smile: Dental Implant Restoration
---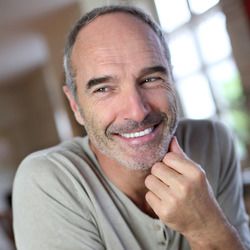 An incomplete smile can significantly impact many aspects of your life. Even a single missing tooth can affect your ability to enjoy the foods you love, and compromise your confidence in your appearance. At Oral & Maxillofacial Surgery Associates, our surgeons place dental implants so your dentist can proceed with dental implant restoration using crowns, bridges and dentures. Contact our Montgomery practice today to learn more.
About Dental Implants
Dental implants are small titanium posts that are surgically placed in the jaw to replace missing tooth roots and provide the ultimate foundation for crowns, dentures, and bridges. A fully restored dental implant can help you smile, chew, and speak with complete confidence.
Types of Restorations
Dental implants can be restored with:
Crowns: These tooth-shaped prosthetics are designed to replace a single missing tooth.
Bridges: Also known as partial dentures, bridges are used to replace several consecutive missing teeth.
Dentures: If you need to replace an entire arch of teeth, dentures can be designed to fit your upper arch, lower arch, or both.
Placing Dental Implants
Dental implant placement requires special training. While many dentists can provide dentures and crowns, they must often refer patients to oral surgeons who are capable of placing the implants. Placing dental implants traditionally requires two surgeries. During the first surgery, a pilot hole is drilled into the jaw, and the threaded implant is inserted. The gums are stitched closed over the implant to facilitate the fusion of the implant and jaw, which generally takes between three and six months. Once fusion is complete, the implant is fitted with an abutment piece that will connect directly to your restoration. The gums are stitched closed around the implant, leaving the abutment piece exposed above the gum line. Once the gums are healed, your dentist can begin creating your custom restoration.
We also place immediate-load implants that can be placed and restored within a single day. We will coordinate with your dentist to have your restorations ready to place immediately following surgery. These implants have a smaller diameter than traditional implants, and may not be appropriate for all patients. We will thoroughly assess your needs in order to recommend the most beneficial treatment for you.
Creating and Placing Restorations
Once you have received your dental implants, your dentist will take detailed impressions of your implants, gums, and any surrounding teeth. These impressions will be sent to an offsite lab where skilled ceramists and other technicians will carefully craft your crown or denture to achieve a precise fit. Today's dental porcelain looks incredibly realistic, and is often durable enough to replace molars as well as anterior teeth without sacrificing functionality. However, in some cases, materials such as metal or metal fused to porcelain may be recommended according to your needs.
In most cases, custom restorations take two to three weeks to create. During this time, your dentist can provide you with temporary restorations that will allow you to chew and enunciate normally. Once you have received your permanent restorations, you can expect them to function as dependably as natural teeth. Whether you are biting into a juicy apple, or enjoying a conversation with friends, you can rely on your implant-supported restorations to stay securely in place.
Schedule a Consultation
Reach out to us today to book an appointment and learn more about your options in rebuilding a functional, beautiful smile.
I wish to thank publically Dr. Ingalls and his staff for "going the extra mile" and not only providing great dental care but also helping a fellow human being out of compassion and caring. Thank you from the bottom of my heart for what you did for my family member.

Rodney H.