Treating various forms of facial injuries is a unique qualification in the realm of oral and maxillofacial surgeons, who are specially trained to maintain the health and integrity of facial structures. For patients with facial trauma, your Montgomery oral surgeons are on staff at local hospitals to provide emergency room coverage for avulsed (knocked-out) teeth, fractured facial and/or jawbones (including the cheeks and eye sockets), and facial/intraoral lacerations, among many others.
Dr. Parker Discusses Facial Trauma
---
Dr. Parker discusses varying degrees of facial trauma, including what steps are commonly taken to address each type of injury.
Enlarge Video
View All Videos
The Nature of Common Facial Trauma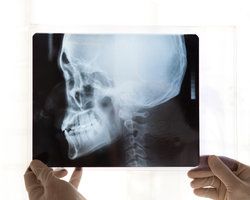 Facial injuries can significantly impact a patient's emotional and physical health. Putting things back together afterwards is delicate, and sensitive, work. Comprehending the nature of facial trauma involves hands-on training and experience, including a thorough understanding of how treatment will affect the patient's long-term function and appearance. Motor vehicle accidents, sports injuries, interpersonal violence, and work related injuries can cause harm ranging from damaged teeth to severe trauma to facial skin, bones, and soft tissues.
A Patient Discusses His Facial Trauma Care
---
Severe Dental Damage
Teeth that have been knocked out can often be saved if promptly (and expertly) replaced in their sockets. Visiting your dentist or oral surgeon within an hour of losing the tooth can increase the tooth's chances of survival. If the tooth cannot be saved, then an oral surgeon can repair damage to the supporting bone, as well as insert a dental implant to replace the lost tooth and restore its function.
Soft-Tissue Injuries
Soft-tissue injuries, such as lacerations, occur on the face and/or within the oral cavity, and are typically repaired with suturing. We ensure that no infection is present at the laceration site, and provide a repair that yields the best cosmetic result. We'll also take special care to inspect for and treat injuries to special structures, such as facial nerves, salivary glands, and salivary ducts (outflow channels).
Trauma to Bones
Like the body's other bones, facial bones must be properly set for effective healing. Since you can't put a cast on your face, oral and maxillofacial surgery involves innovative methods for repairing facial bone trauma. The specific form of treatment depends on the location and severity of the fracture, as well as the patient's age and general health.
When the upper and/or lower jaw are fractured, the jaws are often wired together to prevent movement and facilitate healing. For certain types of trauma, small, surgically inserted plates and screws (also known as a "rigid fixation") can stabilize the site of the injury. The relatively new development helps eschew the need for jaw wiring in certain cases, improving patients' recovery time and allowing them to return to normal function sooner.
Like all aspects of oral surgery, facial reconstruction requires the skills and expertise of a specialist. Expert care should involve minimal change to a patient's facial appearance. During treatment, we access the facial bones by making the fewest and smallest incisions we can, and place them in "hidden" areas whenever possible to make the scars less noticeable.
Schedule an Oral Surgery Consultation Today
To schedule a consultation, contact our oral surgeons today. For your convenience, Oral & Maxillofacial Surgery Associates has offices in three locations, and we are pleased to serve patients from Montgomery, Prattville, Troy, and the surrounding communities.
I wish to thank publically Dr. Ingalls and his staff for "going the extra mile" and not only providing great dental care but also helping a fellow human being out of compassion and caring. Thank you from the bottom of my heart for what you did for my family member.

Rodney H.